Step up to the bar
TRAU DICH!
Steig am Freitag, den 7.11.2008 sowie am Samstag, den 8.11.2008 auf die Bar des Coconuts in Kirchberg in Tirol und präsentiere der Jury deine Performance! Die beste Bartänzerin gewinnt die DVDs "Step Up" und "Step Up To The Streets". Außerdem erhält jede Teilnehmerin ein Freigetränk.
Natürlich haben wir auch für die anderen viele tolle Specials vorbereitet: Unser Getränk des Abends heißt "Flasher" – ein 2 cl Sho(r)t um nur 2 €! Und den Flasher gibt's gleich in zwei verschiedenen Sorten – green und red!
Zu jedem Flasher bekommt ihr einen Getränkechip, den ihr gegen coole Sachpreise tauschen könnt, und ein Los – um Punkt Mitternacht verlosen wir ganzen Kasten Beck's Green Lemon!
Da lohnt es sich doch, vorbei zu schauen! Wir warten auf euch!
Und nicht vergessen:
Review The Night!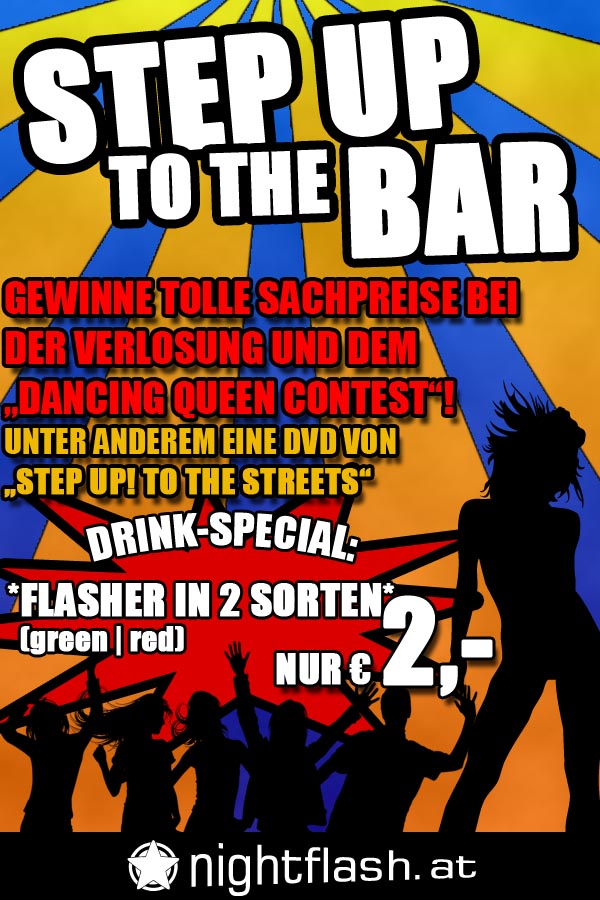 Folgende Mitglieder sind bei diesem Event vertreten:
666_Satanist,
Bitchy,
Chris_Bei,
Cloe14,
Dani93,
DarkFish,
Darwin,
Garry,
Hellkeeper,
Julie93,
KLINGLA,
Melly13,
Optiker,
Snowrider,
Vany93,
Yosh24,
anschi_maus,
hopfGoschtarin,
satanic_,
sylvia16,
tamy15